High energy, high caliber music for pubs, clubs, restaurants, corporate receptions and special events.
Powerful vocal delivery, skilled musicianship, years of experience, and a huge repertoire combine in a seasoned performer with the ability to craft shows that appeal to a variety of audiences. Jeff Sherman plays vintage pop songs, classic rock anthems, blues/rock standards, easy-listening ballads, country classics, and traditional roots/folk music, all with energy, enthusiasm, professionalism, and style.
Jeff's sophisticated approach to guitar/vocal performance has won him the respect of discerning audiences throughout Northeast Ohio. He held a five-year-long, monthly engagement at Cleveland's legendary Fat Fish Blue restaurant, and makes regular appearances at The House of Blues Restaurant and the Brother's Lounge Wine Bar. Jeff has performed at many of the area's most popular and successful restaurants, including the Cleats Club Seat Grills, the Burntwood Taverns, Danny Boys, Don's Pomeroy House, the Claddagh Irish Pub, Oaks Lakeside in Chippewa, and the Jackalope Lakeside in Lorain. He also appears regularly at area wineries like John Christ Winery, Matus Winery, Paper Moon Vineyards, Quarry Hill Winery, and Vermilion Valley Vineyards, and has performed in the Lake Erie Islands region at venues like The Crew's Nest on Put–in-Bay, Mel's Crow's Nest in Catawba, and the Caddy Shack on Kelley's Island. In addition, Jeff has performed opening concert sets for the band Wishbone Ash, for Grammy-nominated songwriter Bill Morrissey, and for rockabilly legend Commander Cody, and has been featured in the Lakewood Public Library's "Sunday with Friends" Concert Series. Jeff has entertained at major corporate events on behalf of organizations like Inside Business Magazine, Great Lakes Publishing, and Cleveland Magazine, and has also appeared at many of the area's finest private clubs, including the Canterbury Golf Club, the Catawba Island Club, the Country Club in Pepper Pike, the Chagrin Valley Country Club, the Gem Beach Marina, the Hillbrook Club, the Huron Yacht Club, the Lakewood Country Club, and the Shoreby Club.
One aspect of Jeff's work that audiences find engaging is his use of digital
looping
technology. By simultaneously recording and playing back his guitar live and in real time, Jeff performs with the complexity and depth of a small ensemble. Performances are enhanced through the use of high quality but compact sound reinforcement and digital audio processing equipment. Jeff uses the most modern
technology
to deliver a high-caliber sound that never overwhelms the listener.
---

Upcoming Appearances
Calendar view
here.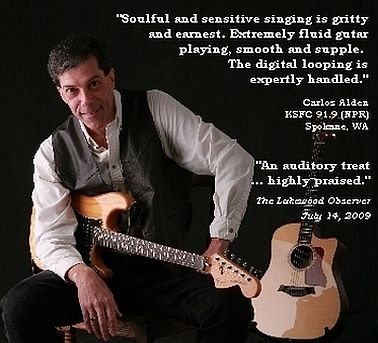 ---
Jeff's debut CD was released by Goose Creek Records in November of 2008 and features the songs of Ray Charles, Jimmy Cliff, The Grateful Dead, Merle Haggard, Van Morrison, Procul Harum, Rick Roberts, Leon Russell, Bruce Springsteen, & More. Read the press release
here
.
"Very affecting, immediate, and sincere, with fine instrumental back-up ... plus, Jeff know's how to breathe and phrase. A superb CD!"
El McMeen
Fingerstyle & Celtic Guitarist
International Musician of the Year
"Very impressed with the tone and phrasing. Killer guitar ... a great add to my collection."

Colin Dussault
Singer/Songwriter, Harmonica Player
The Colin Dussault Blues Project
"Really good! Your guitar is Fab! Nice mix."

Becky Boyd
Guitarist, Vocalist, Songwriter

Track samples and listener comments here.

---
Performing the music of:
The Allman Brothers Band ☼ Badfinger ☼ The Band ☼ The Beatles ☼ Harry Belafonte ☼ Chuck Berry ☼ Blessid Union of Souls ☼ Stephen Bishop ☼ Bobby Blue Bland ☼ Blind Faith ☼ Karla Bonoff ☼ Jackson Browne ☼ The Buckinghams ☼ Buffalo Springfield ☼ Jimmy Buffet ☼ J. J. Cale ☼ Glen Campbell ☼ James Carr ☼ Johnny Cash ☼ Eva Cassidy ☼ Ray Charles ☼ Eric Clapton ☼ Jimmy Cliff ☼ Patsy Cline ☼ Joe Cocker ☼ Nat King Cole ☼ Ry Cooder ☼ Sam Cooke ☼ Elvis Costello ☼ Creedance Clearwater Revival ☼ Crosby, Stills, Nash & Young ☼ Rodney Crowell ☼ Derek and the Dominos ☼ Willie Dixon ☼ The Doors ☼ Fats Domino ☼ Dave Dudley ☼ Bob Dylan ☼ The Eagles ☼ Jonathan Edwards ☼ Fleetwood Mac ☼ Eddie Floyd ☼ The Flying Burrito Brothers ☼ Jerry Garcia ☼ Marvin Gaye ☼ Lowell George ☼ Vince Gill ☼ Julie Gold ☼ The Grateful Dead ☼ Dobie Gray ☼ Nanci Griffith ☼ Arlo Guthrie ☼ Merle Haggard ☼ Emmy Lou Harris ☼ George Harrison ☼ John Hiatt ☼ Buddy Holly ☼ Hootie and the Blowfish ☼ Waylon Jennings ☼ Jethro Tull ☼ Elton John ☼ Robert Johnson ☼ Louis Jordan ☼ Albert King ☼ B.B. King ☼ Ben E. King ☼ Carole King ☼ Freddie King ☼ Kris Kristoferson ☼ The Left Bank ☼ Gordon Lightfoot ☼ Buzzy Linhart ☼ Little Feat ☼ Lyle Lovett ☼ Lynard Skynard ☼ Taj Mahal ☼ Dave Mason ☼ Curtis Mayfield ☼ Harold Melvin and the Blue Notes ☼ Johnny Mercer ☼ Joni Mitchell ☼ Keb Mo ☼ Van Morrison ☼ Willie Nelson ☼ The New Riders of the Purple Sage ☼ Danny O'Keefe ☼ Gram Parsons ☼ Poco ☼ Tom Petty ☼ Wilson Pickett ☼ John Prine ☼ Procul Harum ☼ Pure Prairie League ☼ Bonnie Raitt ☼ Willis Alan Ramsey ☼ Lionel Ritchie ☼ Johnny Rivers ☼ Smokey Robinson ☼ The Rolling Stones ☼ Jimmy Ruffin ☼ Todd Rundgren ☼ Leon Russell ☼ Mitch Ryder ☼ Sam the Sham and the Pharoahs ☼ Santana ☼ Bob Seger ☼ Shel Silverstein ☼ Simon & Garfunkle ☼ Frank Sinatra ☼ J.D. Souther ☼ The Spencer Davis Group ☼ Bruce Springsteen ☼ Steely Dan ☼ Steppenwolf ☼ The Steve Miller Band ☼ George Strait ☼ Cat Stevens ☼ Rod Stewart ☼ Curtis Stigers ☼ Stephen Stills ☼ Steely Dan ☼ Sam the Sham and the Pharoahs ☼ Rod Stewart ☼ James Taylor ☼ The Temptations ☼ Rufus Thomas ☼ Traffic ☼ Travis Tritt ☼ Townes Van Zandt ☼ Louden Wainwright III ☼ Tom Waits ☼ T-Bone Walker ☼ Muddy Waters ☼ Lenny Welch ☼ Junior Wells ☼ Hank Williams ☼ Jesse Winchester ☼ Johnny Winter ☼ Steve Winwood ☼ Bill Withers ☼ Howlin Wolf ☼ Kate Wolf ☼ Jesse Colin Young ☼ Neil Young ☼ Warren Zevon & More.